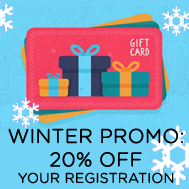 Register by January 21st to take advantage of our special Winter promo and enjoy a 20% discount on your registration fee.
IWWG members are entitled to a further 10% discount!
Deadline: January 21st, 2017
Register now…
CISA PUBLISHER: SAVE 30% ON YOUR NEXT PURCHASE
Proceedings of our Symposia and many other publications on Waste Management, edited by CISA Publisher, are available for purchase on www.cisapublisher.com
To receive the discount make sure enter the code gift card 30 during the check-out procedure.
SARDINIA 2017 – 30th Anniversary:
16th International Waste Management and Landfill Symposium
The call for abstracts for the Sardinia 2017 Symposium is now officially open. Don't miss the opportunity to submit your abstract to one of the world's leading events in the field of Waste Management and Landfilling.