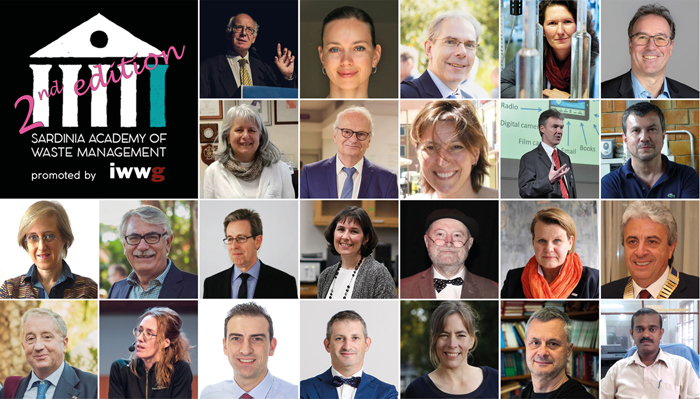 The SARDINIA ACADEMY OF WASTE MANAGEMENT is an annual online training programme, organised by Eurowaste and promoted by IWWG – International Waste Working Group.
The programme of the 2nd Edition will develop between April and July 2023 and consists of weekly webinars devoted to a series of different WM topics, in which leading international experts share their first-class knowledge addressing topics of widespread interest. Read more about the lecturers of the Academy
The courses are suited to both beginners and all those interested in furthering their knowledge of fundamental WM topics which will be extensively discussed during our Symposia (Sardinia, SUM, Venice). We decided to organise these training courses online – thus making them available to a broader audience – and months in advance, with the aim of encouraging an active and wider participation in the conference (such as presenting a paper, displaying a poster, presenting a research project, etc.).
Every webinar lasts 2 and a half hours, including ample time for questions and discussion.
Discover the full calendar on the official website >>

Warning: Attempt to read property "ID" on string in /sites/eurowaste.it/files/wp-content/themes/yin_and_yang/single-portfolio.php on line 152


Close
Sardinia Academy of Waste Management
Category →
Events
Webinars